One of the leading names in the crypto analysis sector, Michael van de Poppe, recently shed light on XRP's price movements. Known for his crypto observations, his latest tweet has stirred conversations in the crypto community, especially pertaining to Ripple's native cryptocurrency, XRP.
In his most recent analysis, van de Poppe indicated that XRP's price movement is now at a critical juncture. 
XRP Entering The 'Area Of Interest'
Particularly, according to Michael van de Poppe's tweet, XRP is currently moving into what he terms an 'area of interest' on its weekly chart. This essentially points towards potential pivotal moments in the coin's price trajectory that can be significant for traders.
Related Reading: Ripple Report Foresees Blockchain Saving Financial Institutions $10 Billion By 2030
It's $XRP which is getting into the area of interests.

Just be able to buy the dip. pic.twitter.com/mBc71YtC2j

— Michaël van de Poppe (@CryptoMichNL) August 7, 2023
Based on his analysis, the current position of XRP may soon pave the way for a favorable long-trade entry, aligning with the upcoming market cycle. Further expanding on this, he advised traders to remain vigilant and consider buying the dip in the impending weeks.
This comes at a time when XRP's price has seen a decline of over 10% in the past two weeks, a movement influenced heavily by developments with the Securities and Exchange Commission (SEC). As recent data shows, the altcoin experienced a decrease of 10.8% over the previous seven days, positioning its trading value above $0.6.
Understanding The Factors Behind The Dip
So, what prompted this dip in XRP's value? Van de Poppe's analysis provides a perspective. He emphasizes that the significant price fall XRP experienced over the last month is majorly attributed to long-term holders. These holders, witnessing the surge or "heavy impulse" in XRP's price, saw it as an opportune moment to offload their holdings.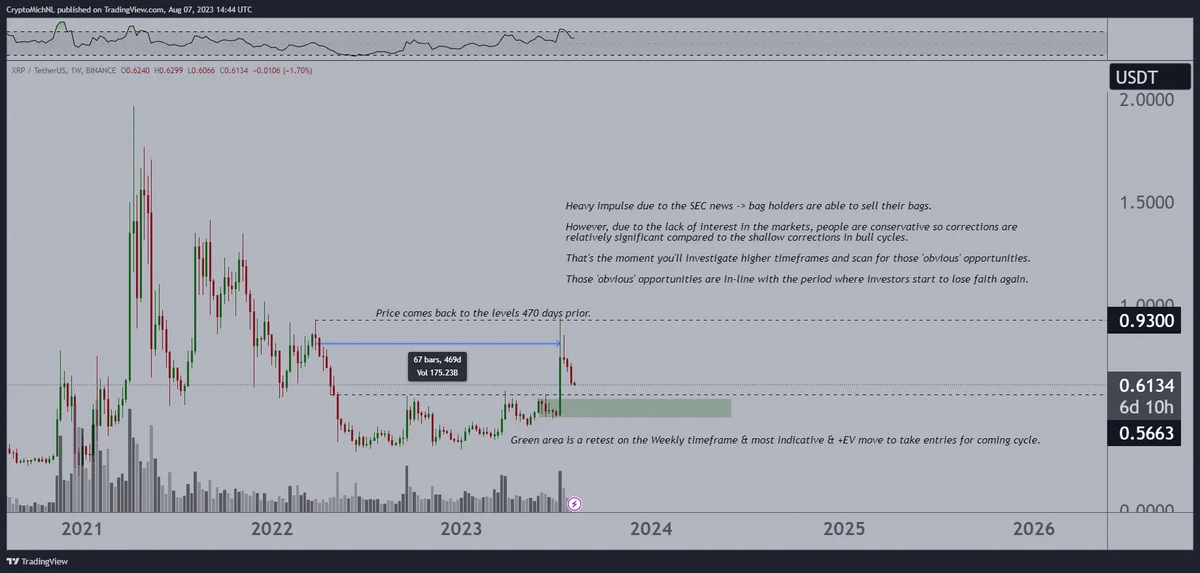 Additionally, another notable observation from van de Poppe is the current "lack of interest" in the cryptocurrency markets. This diminished interest, according to the analyst, is responsible for more pronounced price corrections compared to what's usually seen during bull market cycles.
Such market sentiment can significantly influence how cryptocurrencies, including XRP, perform and are perceived by potential investors.
Over the past 24 hours, XRP has seen a slight dip of 0.5%. This price action has brought the altcoin to currently trade at a price of $0.61, at the time of writing. Notably, alongside its value, the asset's market capitalization has also seen a significant plunge dropping by more than $4 billion, in the past week.
XRP's market cap is currently valued at $32.5 billion as of today, losing almost $4 billion compared to the value of $36.3 billion seen last Tuesday.
Featured image from iStock, Chart from TradingView